The first thing that comes to mind when you think of Diwali is the lights and the festivities but for me, a close second has to be food– and plenty of it! Let's face it Diwali is the one time in the year you can gorge on these delectable delights without the guilt! Here are my top 7 must-try Diwali recipes to make for your family, this festive season! These recipes include some of my personal tried and tested favourites, so you can be sure to wow your family as you enjoy the festive cheer!
Wishing you and your family a very happy Diwali and a Happy New year in advance!
1. Bedmi Puris Served With Sweet N Sour Pumpkin and Potatoes in Tomato Gravy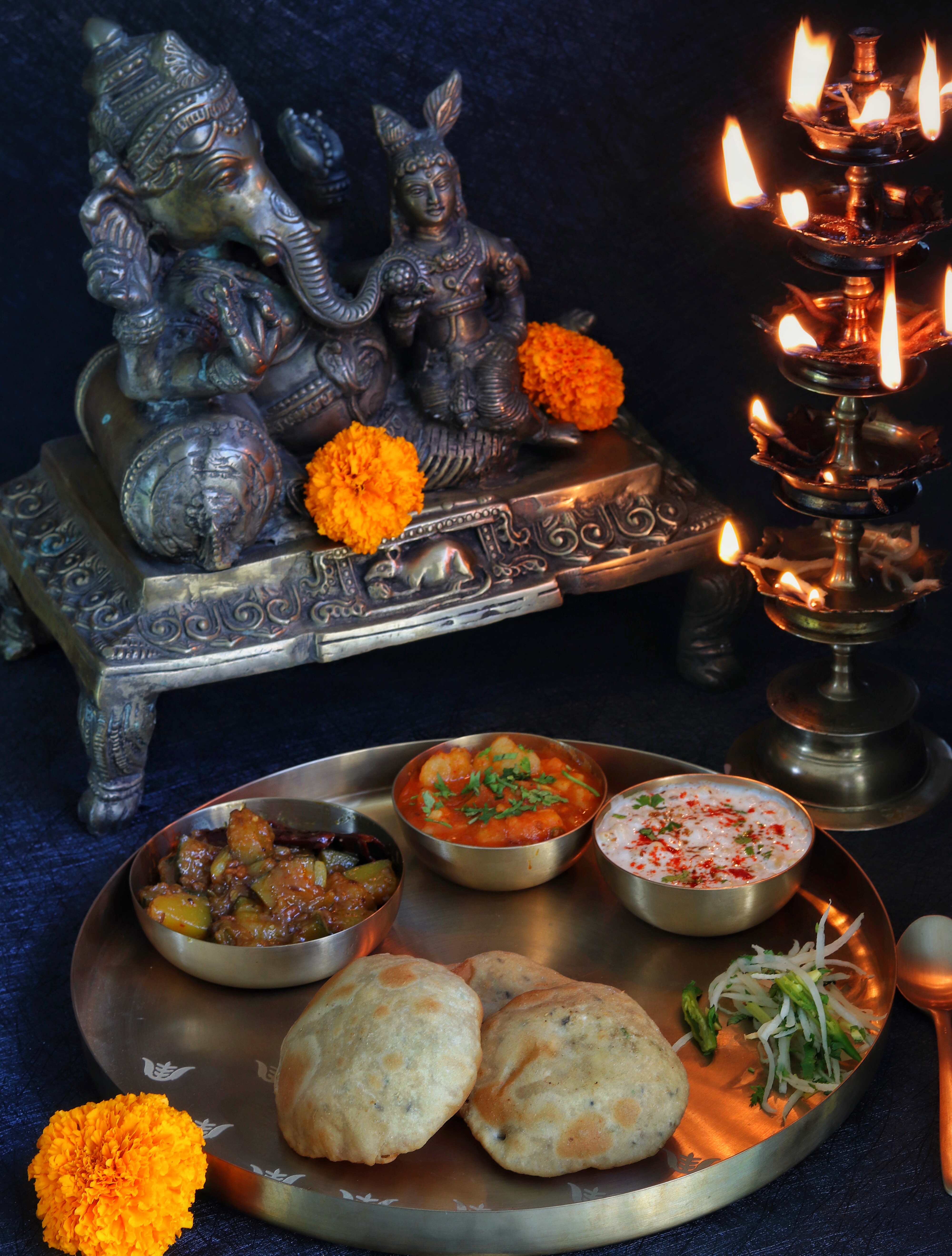 The epitome of Festivity and Celebrations…yes, that's what Diwali symbolises for me… it's the glitter of lights… the joy of adorning myself…mingling with family n friends alike…the sound of crackers, but above all, it's the sheer indulgence in our traditional foods!!! Click here for the full recipe.
2. Chilli & Basil Paneer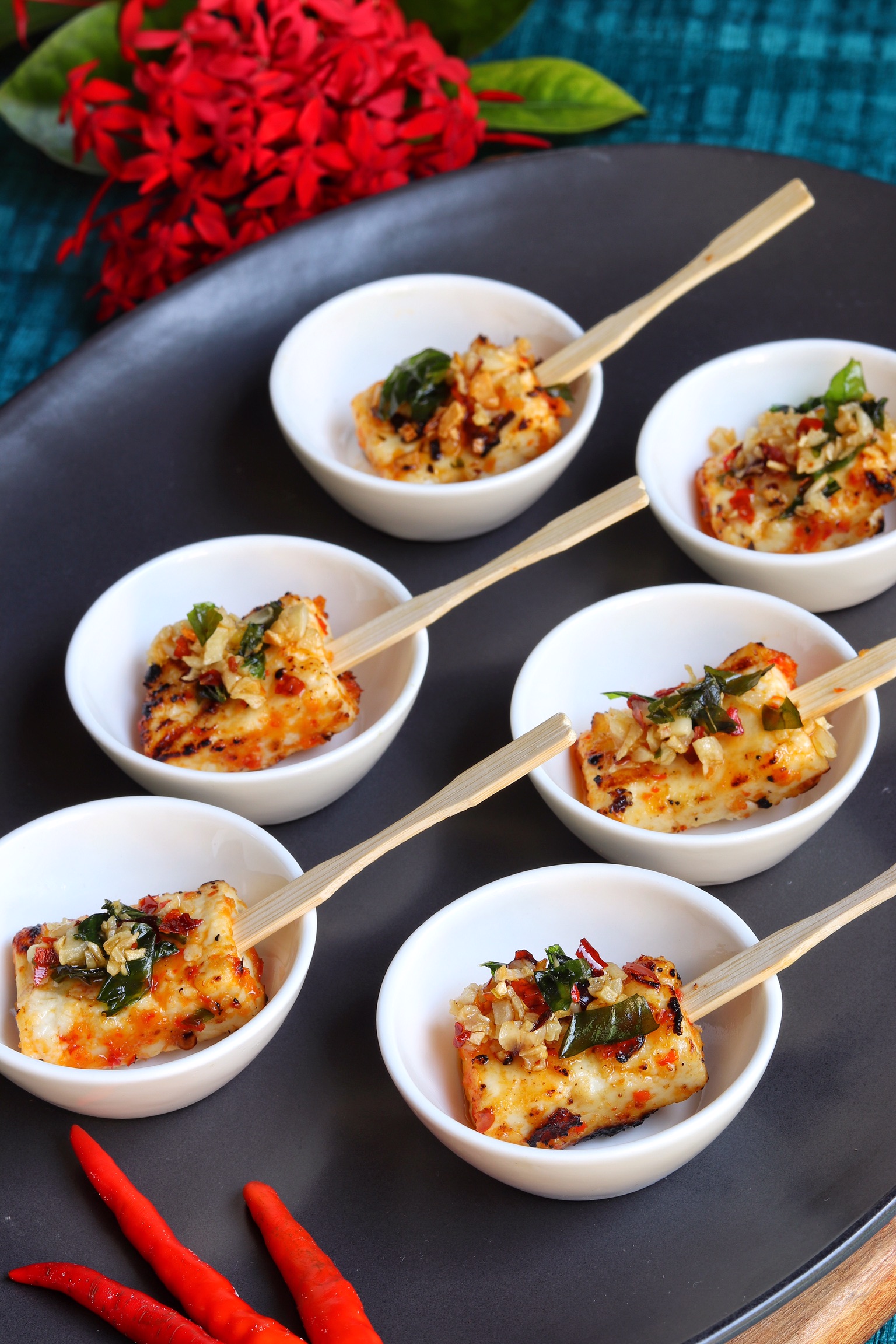 Start your Diwali festivities with this Chilli & Basil Paneer and experience your palates flooded with delectable textures and flavours! A great source for vegetarian protein, this recipe is best served as an appetiser and has anunflinching flair to jazz up any party. A pleasant twist to the ubiquitous Chili Paneer, this concoction is marinated in Schezuan sauce and topped with crispy fried basil for thatdistinctive zingy flavour! A sure shot rage no matter who's on your guest list!!! Click here for the full recipe.
3. Kesari Meetha Chawal or Sweet Saffron Rice & Mogar or Sookhi Moong Dal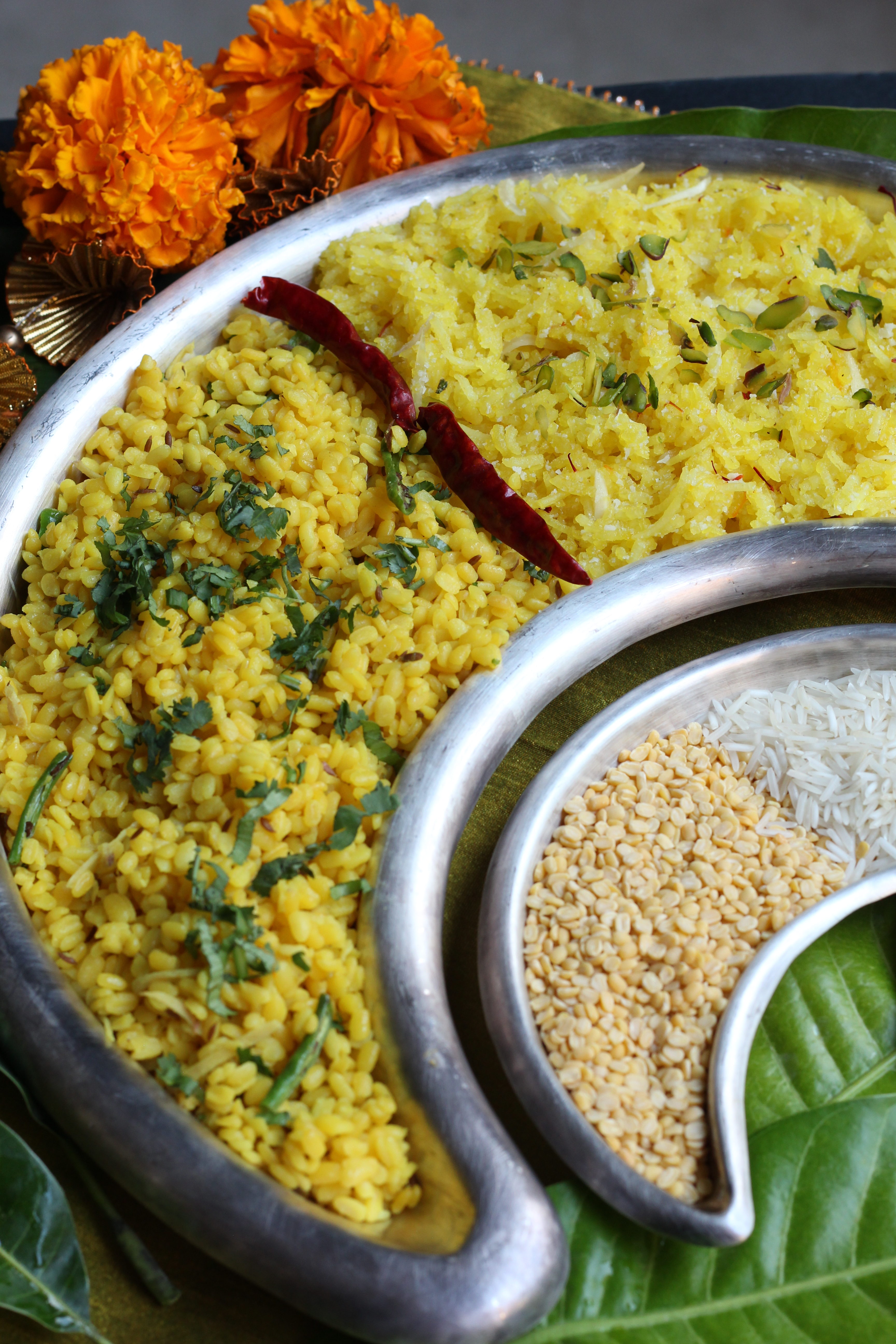 Merely the thought of this timeless dish makes my mouth water. However, every time I thought of making it, an apprehension gripped my mind. Will I ever be able to make it as well as my grandmother does? Initially, even my knowledge and experience of making complex western deserts did not give me the adequate confidence to make such great Indian / Marwari classics! The thought of making "Chashni" (Sugar syrup) always seemed like an uphill task, almost akin to the fear of a horror film! Click here for the full recipe.
4. Traditional Marwari Diwali Thali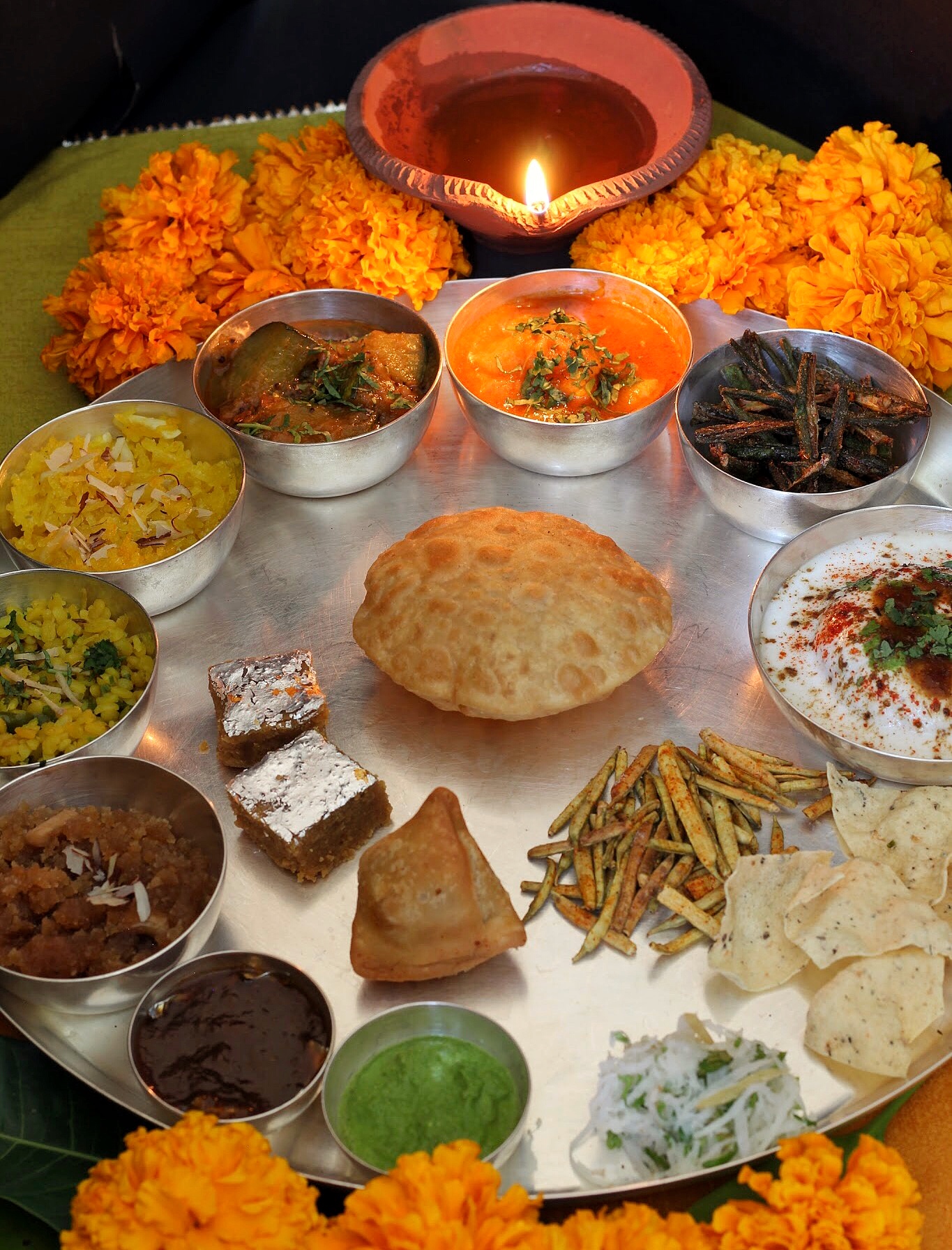 Lights, Fire crackers, festivity, and celebration is what instantly comes to my mind on the auspicious occasion of Diwali !The shopping, the parties, the Mithais and Namkeens are added childhood memories for me.But what really stirs nostalgia is the traditional Diwali dinner, churned out of age-old recipes which include an array of savoury and sweet dishes. This elaborate meal is served in ourChandi Ki Thali (Silverware), a once in a year indulgence and truly a treat to the eyes as well. This Diwali is no exception! Click here for the whole recipe.
5. Gulab Jamun dunked in Gulkand Rabri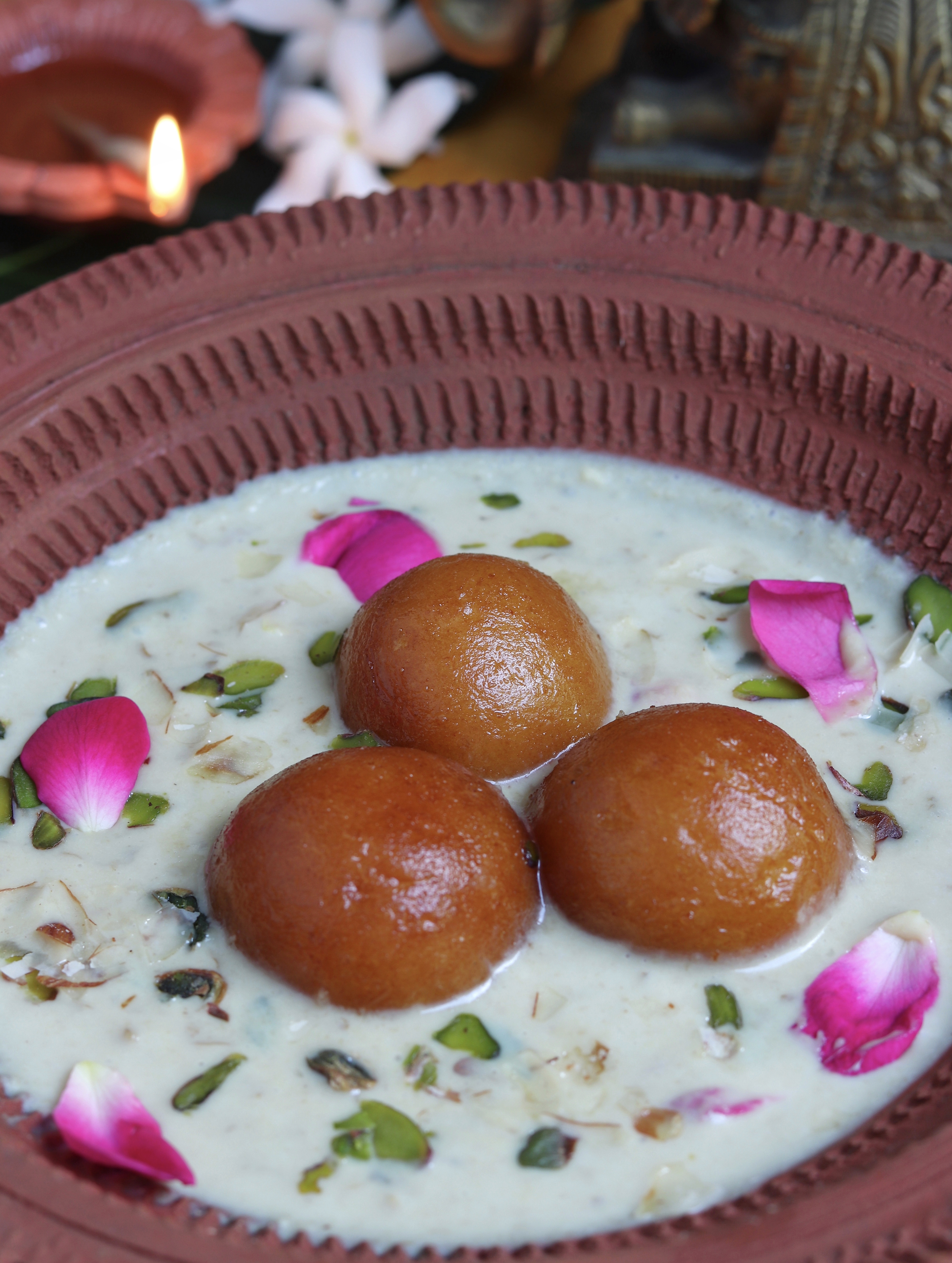 Gulkand 'n' chewing Pan is widely synonymous in India and never fails to stir sweet memories! Added to the quintessential Rabri with its history from Varanasi and Kolkata, the culmination is an absolutely divine concoction! Dunk the ubiquitous Indian sweet Gulab Jamuns into it and you can be sure of an explosion of flavours and textures on your palate!!! A great Mithai to lighten up your Diwali n a pleasant spin on the traditional offerings!!! Click here for the full recipe.
6. Nolen Gud Sandesh layered with Edible Gum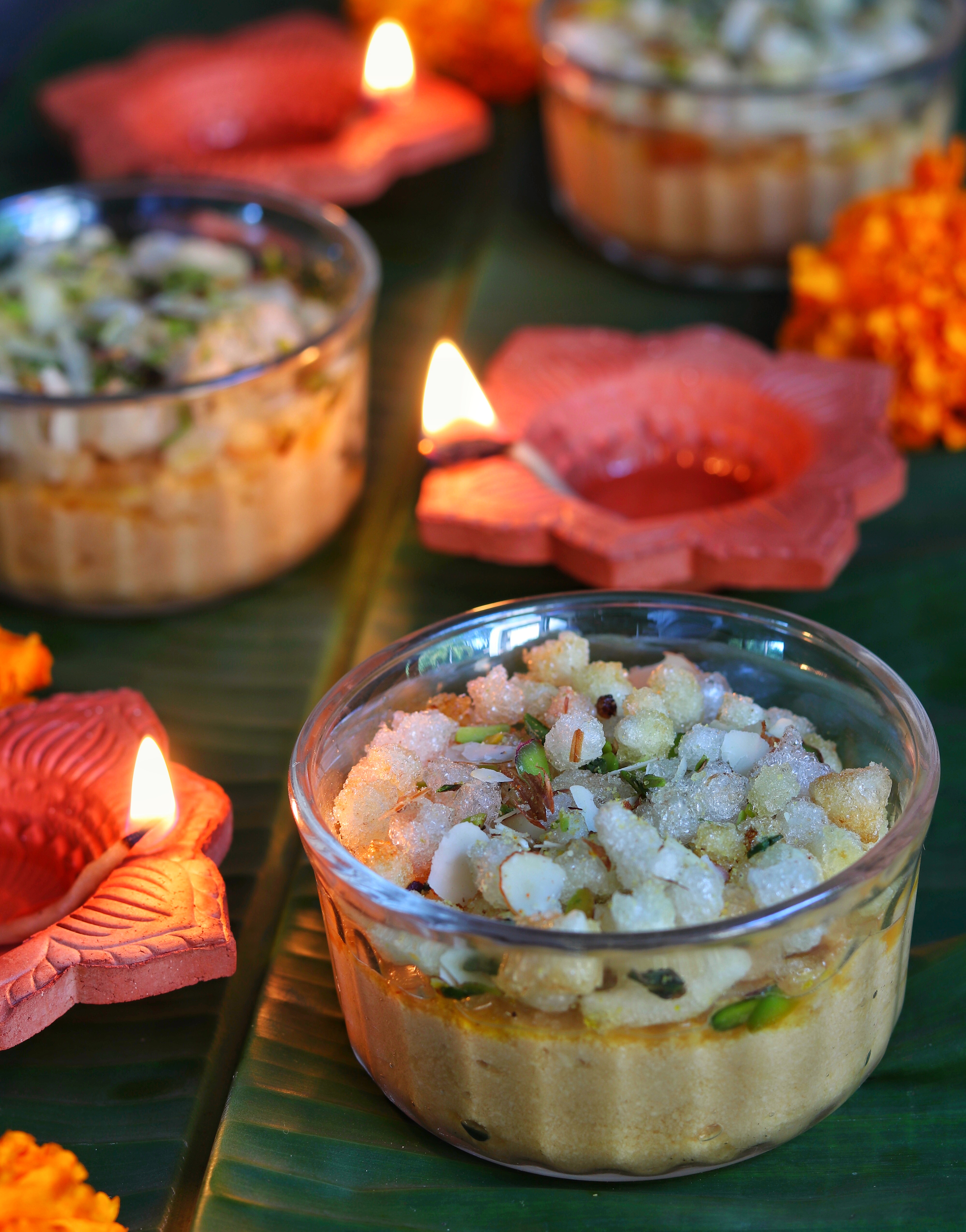 Nolen Gud Sandesh layered with Edible Gum !!! The artisan Gud travels all the way from Kolkata to Indore during winter months and gets ensconced into this delectable Bengali speciality adorning your table like a priceless artefact! Served warm, this dessert has a smooth texture which simply melts away in your mouth! Click here for the full recipe.
7. Almond Praline Phirni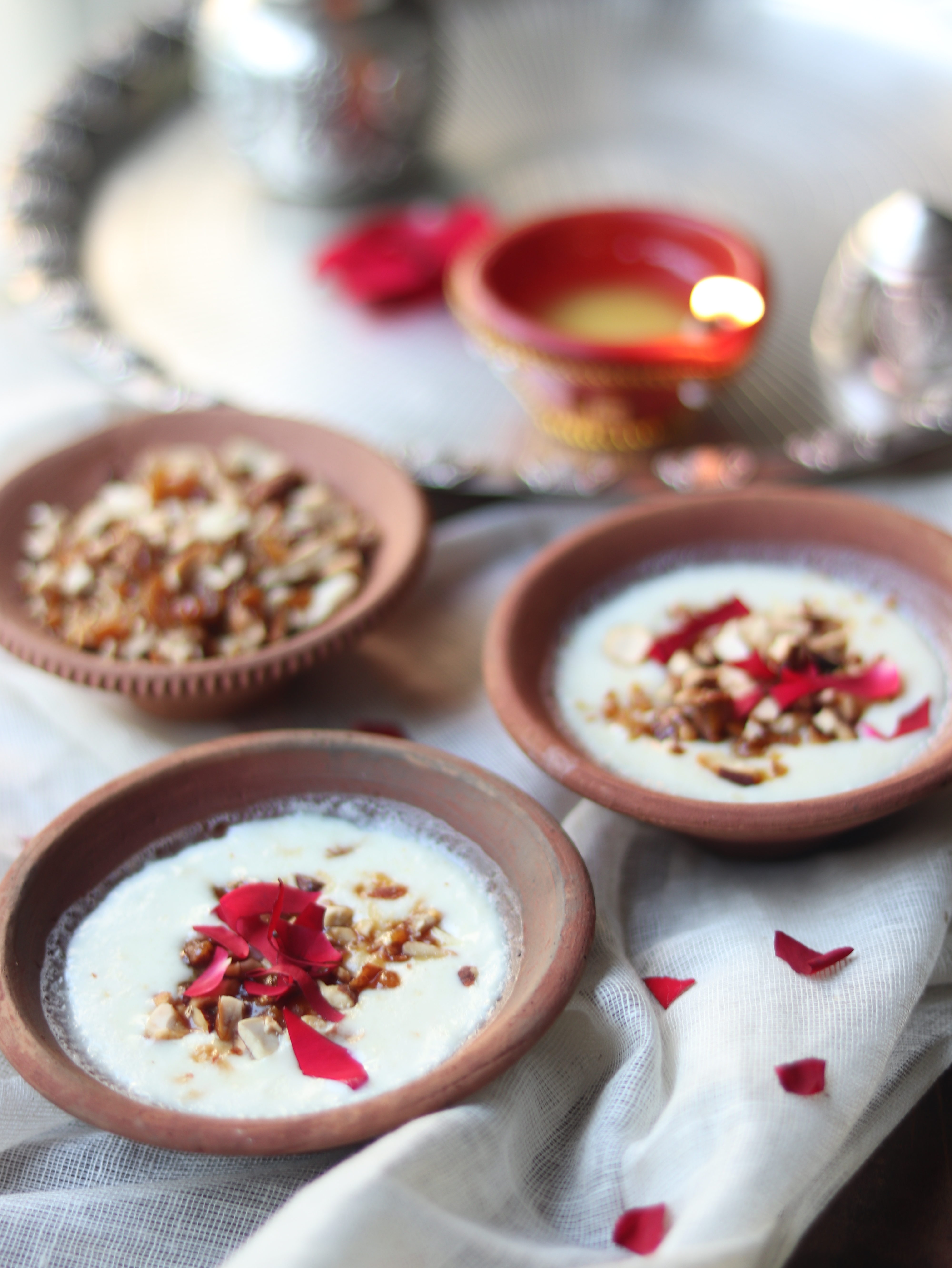 I have always detested milk and milk-based desserts since childhood. My mom not only struggled to flavour it but also disguised its whiteness before I would even consider having it. Great Indian favorites like Rabri, Kheer, Phirni were a strict 'No' for me! However as things had to turn out, my husband simply loves all of them and any dessert with the remotest resemblance to them. Click here for the full recipe.
I hope you give these recipes a try and I'm sure your loved ones will really enjoy these unique recipes! Don't forget to share your recreations with me on Instagram. @dinewithgitanjali