I have always detested milk and milk-based desserts since childhood. My mom not only struggled to flavour it but also disguised its whiteness before I would even consider having it.
Great Indian favorites like Rabri, Kheer, Phirni were a strict 'No' for me! However as things had to turn out, my husband simply loves all of them and any dessert with the remotest resemblance to them.
This reminds me of the maxim "the way to a man's heart is through his stomach", is truly apt for him. This is when the idea dawned upon to me to create this recipe – a sure shot way to enchant
him. The praline topping adds the crunchiness to the Phirni's intrinsic soft texture and also leaves a beautiful fusion of flavours on your palate. However, for those looking for a more authentic
preparation, can simply avoid the praline topping.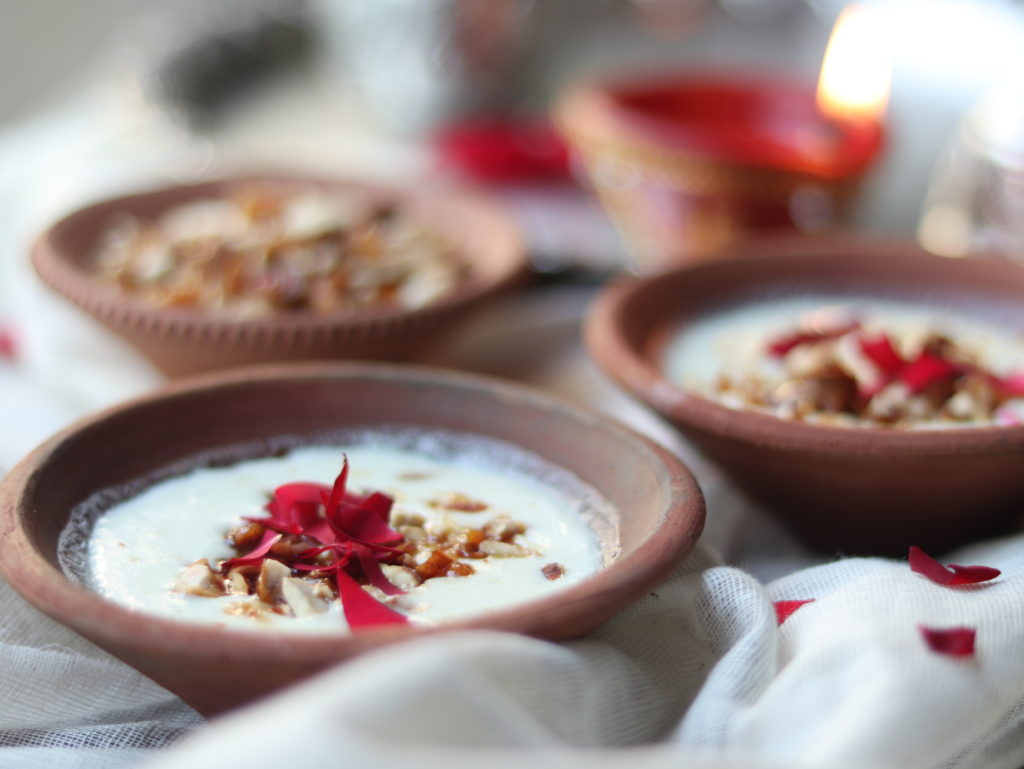 Almond Praline Phirni

Course
Desserts
Servings
Serves 6-8 persons
Preparation Time
30 minutes
Cook time
35 minutes

Ingredients for the Phirni

(1 cup = 250 ml)

1/4 cup
Basmati rice
1 Ltr
Full fat milk
1/4 cup
Sugar
½ tsp
Cardamom (elaichi) powder
½ tsp
Kesar Sherbet (saffron juice)
A few strands of saffron dissolved in 1 Tbsp warm milk
A few drops of rose water (gulab jal)

Ingredients for the Praline Topping

Servings
Makes 1 cup
1 cup
Almonds with skin
1 cup
Sugar
1 Tbsp
Ghee
Oil for greasing

Ingredients for Garnish

A few rose petals
A few chopped pistachios

Instructions for the Phirni

1.
Wash and soak the rice in water for half an hour.
2.
Drain the water completely.
3.
Grind the rice in a grinder. The grain should feel gritty and should be slightly bigger than semolina.
4.
Heat the milk in a thick bottomed broad pan or Kadai. Let the milk reach a boil.
5.
Lower the flame and add the ground rice and saffron into the milk and mix well
6.
Cook the ground rice in the milk stirring from time to time to avoid lump formation. Ensure that the rice does not stick to the bottom of the vessel.
7.
After 25 minutes, the milk starts to thicken and reduce. Check if the rice is completely cooked.

8.

Now add the sugar and cook again for a minute or two.

9.

Switch off the flame. Add cardamom powder, kesar sherbet, gulab jal and mix well.

10.

Let the mixture cool. At this stage, I used a hand blender and pulsed the phirni for a few seconds. This gives a creamy texture and removes any lumps if formed. The mixure should be like a thick custard.

11.

Transfer it to the serving bowls and set in the refrigerator to cool for at least 3 – 4 hours.

12.

You can leave it overnight too especially in an earthen pot or earthen diyas. It soaks up the excess
moisture and sets well.

Instructions for Almond Praline:

1.
Heat ghee in a pan. Add almonds and roast well. Keep it aside
2.
Add sugar and let in caramelize on a low flame. Do not stir with a spoon. Just rotate the pan
ensuring the sugar caramelizes to a deep golden colour. Do not overcook the sugar.
3.
Grease the platform with oil.
4.
Mix the almonds with sugar and spread on the greased platform.
5.
Let it cool. Crush with a rolling pin.

To Serve:

Before serving garnish the phirni with 1 tbsp praline; crushed rose petals and fresh pistachios. Serve immediately.