The last few weeks of the month of October have been unusually hot !!! Just when the mind craves for a refreshing chilled drink and what better if it is healthy too! Indeed a great way to beat the scorching heat.
During our yesteryears, this was a regular concoction and favourite in my Moms house, especially served each year on Akha Teej. However, with the passage of time, it's potent sugar content became a deterrent and soon it vanished from our menus.
It was only very recently until I visited a workshop on Conscious Living in my city where an aunt of mine demonstrated this recipe using jaggery in place of sugar which was almost like a reincarnation of the old-fashioned version.
The Imli Ka Amlana is an apt drink, flavorsome and also aids in digesting all the heavy food consumed during the festive season. Tamarind is a rich source of vitamin b,c, potassium, magnesium and loads of antioxidants which protects our body from hazardous free radicals.
Serve this as a Non-alcoholic mocktail or add a good quantity of vodka or rum, shake it well and enjoy it as a fusion cocktail.
Cheers !!!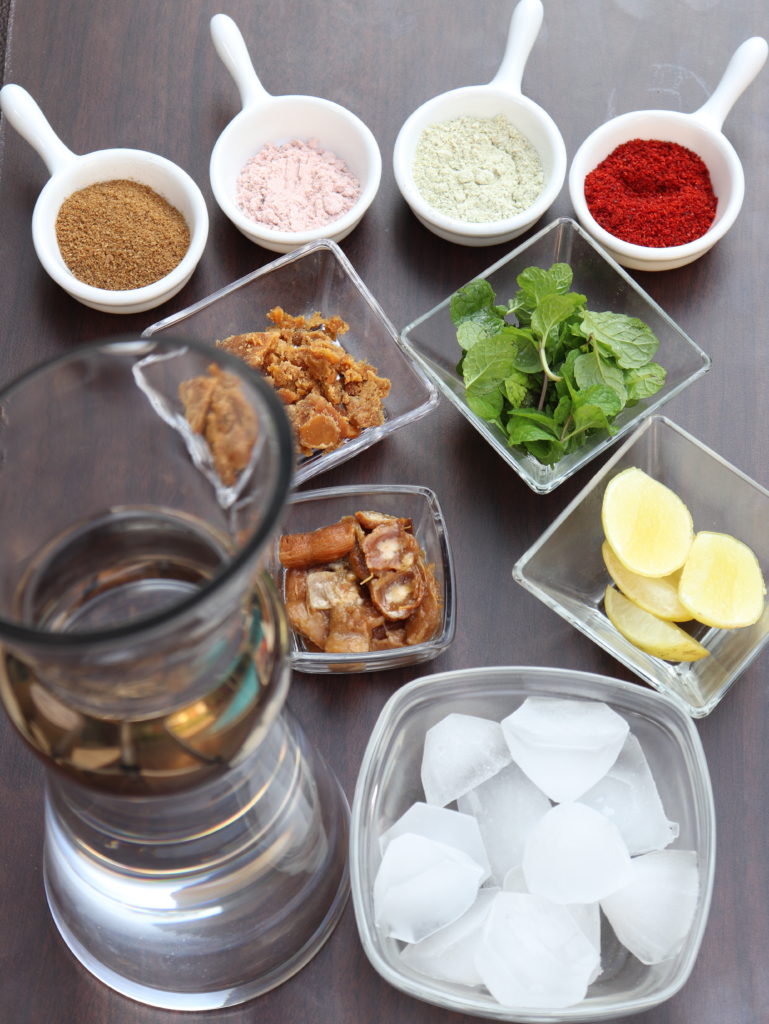 Imli Ka Amlana or Healthy Tamarind Drink

Course
Drinks
Servings
Makes about 3 big glasses (800 ml)
Preparation Time
15 minutes

Ingredients for Imli Ka Amlana or Healthy Tamarind Drink

(1 cup = 250 ml)

1/2 cup
Tamarind (imli)
6 tbsp
Organic jaggery
2 tsp
Freshly roasted and crushed cumin seeds
2 tsp
Black salt
½ tsp
Cardamom powder (Elaichi)
3 glasses.
Chilled water
Juice of one lemon (indian size small lime)
A few mint leaves chopped.

Ingredients For Garnishing and Serving

1 tsp
Salt
1 tsp
Red chilli powder
Lime Juice
Lemon slices
Crushed ice

Instructions for Imli Ka Amlana or Healthy Tamarind Drink

1.
Soak the tamarind in water (just enough to cover it) for 15 minutes.
2.
Squeeze the tamarind into a pulp and discard the seeds.
3.
Add the crushed jaggery and mix it well with the tamarind pulp.
4.
Add the remaining ingredients and mix well.
5.
You can adjust the quantities of salt, cumin, cardamom powder, mint leaves and lime juice
according to your taste.
6.
Before serving rim the glasses. Dip the edges with lime juice, then with salt and red chilli mix.
Garnish with a lemon slice. Serve with crushed ice.