Creme Brûlée, a timeless French classic needs no introduction. In its original avatar i.e., a rich custard base topped with a layer of hardened caramelized sugar when baked to perfection is truly mouthwatering.
Similarly, 7500 kms away from this beautiful European country, in India, we constantly boast of our famous Gulab Jamuns, one which is recognized and relished across the diverse culture of our huge country.
Friends, in continuation with our fusion food special series, I bring to you an appetizing amalgamation of these 2 dessert heavyweights in this recipe of mine. Usually, I make Creme Brûlée, with a heavy double cream or a rich whipping one but this one is truly Indian made with Amul fresh cream. A hint of cardamom imparts the subtle mithai flavour making it indeed festive.
This recipe is usually a hit with children and adults alike, super easy to make and a party favourite – so do try it! You may make this a day in advance also.
Caution: The baking time varies from oven to oven.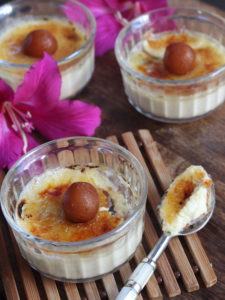 .
Gulab Jamun Cream Brûlée

Course
Desserts
Servings
8 persons
Preparation Time
10 minutes
Cook time
35 minutes

Ingredients for Gulab Jamun Cream Brûlée

(1 cup = 250 ml)

425 gms
Amul cream
100 ml
Full fat milk
1/2 tsp
Vanilla bean paste or 1 vanilla pod
5 nos
Large egg yolks
50 gms
Caster sugar
40 Nos.
Baby gulab jamuns or 20 medium sized ones
1/2 tsp
Fresh cardamom powder

Ingredients for Caramelization

Caster sugar

Instructions for Gulab Jamun Cream Brûlée

1.
Preheat your oven to 175 Deg. C. / 155 Deg. C (Fan Oven)
2.
Pour the cream into a pan along with the milk. Add the vanilla bean paste or scrape the tiny
seeds of the vanilla pod into the milk-cream mixture.
3.
Beat the egg yolks and caster sugar in a mixing bowl and whisk with an electric hand whisk
until pale in colour and a bit fluffy.
4.
Put the milk-cream mixture on medium heat and bring to a boil. As soon as bubbles start
appearing take the pan off the heat. Add the cardamom powder to it.
5.
Pour the warm cream mixture into the egg yolks and keep whisking well as you pour.
6.
Sieve the mixture through a fine sieve into another bowl. This procedure removes the seeds
and lumps if any.
7.
Squeeze the juice from the gulab jamuns. Chop a baby jamun into half. Layer each ramekin
with 4-5 small halves. (In case you use a medium size gulab jamun, chop each into 4 pieces.
Put about 6-8 chopped pieces into each ramekin).
8.
Pour the cream mixture into the ramekins lined with gulab jamuns. Fill them upto 3/4 th of the
ramekin. Scoop off the bubbles if they appear, with the help of a spoon.
9.
Place the ramekins in a roasting tin. Pour hot water (tap water) into the roasting tin upto half
the height of the ramekin.
10.
Put them gently into the preheated oven and bake for about 30 – 35 minutes. (mine took about
30 minutes in a fan assisted oven).
11.
Once out of the oven, they should wobble a bit like jelly in the center. Do not let them get too
firm.
12.
Remove the ramekins from the roasting tin carefully and leave to cool on a wire rack.
13.
After it is cooled, refrigerate them for a few hours or overnight.
14.
When ready to serve, sprinkle 1½ tsp of caster sugar over each ramekin. Spread it out with the
back of your spoon evenly. Then use a blow torch to caramelize it. Hold the flame just above the sugar and caramelize it.
15.
Set into the refrigerator for a few minutes until the caramelization is firm.
16.
Serve cold.