Merely the thought of this timeless dish makes my mouth water. However, every time I thought of making it, an apprehension gripped my mind. Will I ever be able to make it as well as my grandmother does? Initially, even my knowledge and experience of making complex western deserts did not give me the adequate confidence to make such great Indian / Marwari classics!  The thought of making "Chashni" (Sugar syrup) always seemed like an uphill task, almost akin to the fear of a horror film!
Guess what… much to my initial chagrin I realised its actually not half as arduous as I just made it sound. In fact, it is extremely simple to prepare, something every novice cook and a budding chef will be able to create quite effortlessly.
Rice and sugar are the two primary ingredients of this beautiful dish. The garnish of almonds, saffron, and cardamom add to the visual experience while the dish releases a bouquet of lovely flavours.
Served along with Mogar this dish has to be eaten as a "Main" and not served as a sweet dish.
Hope you folks do try this out and relish the same as much as we do.
Kesari Meetha Chawal OR Sweet Saffron Rice
Course
Main
Servings
4 – 6 persons
Preparation Time
30 minutes
Cook time
20 minutes (plus 2 hours to rest)

Ingredients for Kesari Meetha Chawal OR Sweet Saffron Rices

(1 cup = 250 ml)

150 gms
Basmati rice
150 gms
Sugar
75 ml
Water
¼ cup
Almonds (blanch them in hot water, remove skin and cut length-wise)
¼ tsp
Saffron (dissolved in 1 tbsp warm water)
½ tsp
Cardamom powder (elaichi)
¼ cup
Ghee (clarified butter)
2 sticks
Cinnamon (dalchini)
2 cloves
Laung (Cloves)
A few green pistachios for garnishing

Instructions for Kesari Meetha Chawal OR Sweet Saffron Rice

1.
Wash and soak the rice in plenty of water for 30 minutes, and drain. Cook in boiling water till
almost done and strain (grains should be separate, not mushy)
2.
Mix the sugar and 75 ml of water in a pan over low heat. Add saffron and cook the sugar syrup
to a two-string consistency. (Check Note on sugar syrup tip).
3.
Add the cardamom powder, cinnamon sticks and cooked rice to the sugar syrup. Mix gently
taking care that the rice grains do not get mushy. Cover it with a lid, return to the heat, keeping
the flame low, cook for 2 minutes or so, until moisture evaporates.
4.
Remove the mixture from heat, cover it and keep it aside two hours. Stir occasionally in
between with a fork. Initially, the rice when added to the sugar syrup leaves water, but soaks
up after 2 hours.
5.
Before serving, heat ghee in a pan. Add cloves to it and let it sauté. Mix this to the saffron rice.
Be careful to mix it gently so that you don't crush the rice grains.
6.
Serve hot, garnished with sliced almonds and pistachios.

Sugar Syrup tips:

a.
One string consistency: a thin single string is formed. To test put the syrup between
thumb and index finger.
b.
2 string consistency: when testing the syrup between thumb and index finger, two strings are formed.

c.
Alternatively, take a little syrup and put in a katori (bowl) of normal water. If it settles
down, and crystallizes, the syrup is cooked.
Mogar or Sookhi Moong Dal
An ancient Rajasthani staple made from yellow split moong lentils remains a popular preparation till date in all Marwari homes.
Vast arid lands and scarcity of water in Rajasthan, made it difficult to procure fresh vegetables for the most part of the year. As a natural outcome, every household in this part of the country typically used to prepare most of its customary dishes with lentils… the main reason being longer shelf life.
Moong dal is a rich source of protein and compared to most other lentils is light on the stomach and easy to digest by one and all. The comparatively lesser cooking time is also an added
advantage.
Often a "Main dish" served regularly in many houses, this Moong Dal is usually paired with "Meethe Chawal' (Sweet Saffron Rice) during festivities and celebrations.
A melange of these diverse and gorgeous flavours when served together, make an excellent protein carbohydrate combination.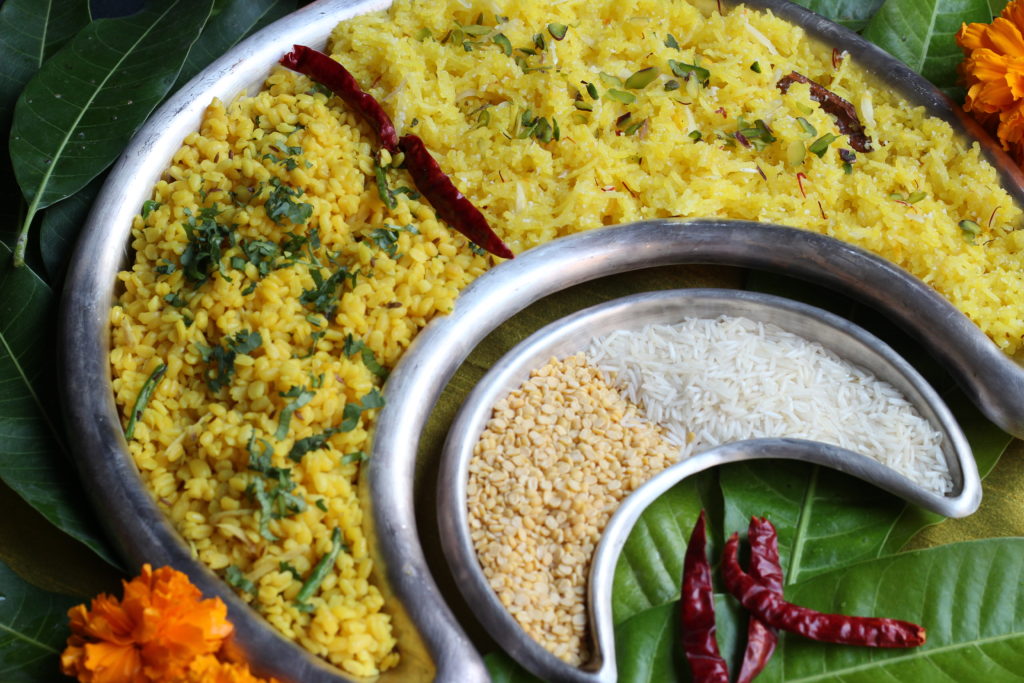 Mogar or Sookhi Moong Dal

Course
Main
Servings
4 – 6 persons
Preparation Time
20 – 25 minutes
Cook Time
20 – 25 minutes

Ingredients for Mogar or Sookhi Moong Dal

(1 cup = 250 ml)

200 gms
Yellow moong dal
½ cup
Water
3 – 4 Nos.
Green chillies, sliced
1" piece
Ginger cut into thin long strips
½ tsp
Cumin seeds (jeera)
1 – 2 Nos
Red chillies whole
½ tsp
Haldi (turmeric) powder
½ tsp
Sookha dhaniya powder
2 – 3 tbsp
Oil
Salt to taste.
Lemon juice to taste
A pinch of asafoetida (Hing)
Coriander leaves finely chopped for garnish

Instructions for Mogar or Sookhi Moong Dal

1.
Wash the moong dal thoroughly. Soak for about 20 minutes.
2.
Rinse again after 20 minutes and drain. Wipe dry with a kitchen tower.
3.
Heat oil in a Kadhai. Sauté the cumin seeds for 1 minute. Add hing, green chillies, red chilli
and ginger, and sauté for another minute.
4.
Add haldi, moong dal, sookha dhaniya powder and mix well.
5.
Add a little water and cook on a low flame. Keep stirring from time to time. As and when the
mixture feels dry, add a little water from time to time.
6.
Let the dal (lentil) cook completely. The liquid shold evaporate compeletely. The lentil grains
should not be broken or mushy. Be careful whilst mixing. (this took about 15 – 20 minuts to
cook completely).
7.
Add the salt, chopped coriander and lime juice and mix well.
8.
Serve hot !!!