Mom! What's new for breakfast? I almost break into a sweat at such times wondering
what to churn out… Something interesting enough for my munchkins and some health
disguised into it to keep me at peace.
While I was mulling over the new task, I thought of this age-old recipe perfected by my
grandmother which used to be a favourite with my younger brother and me. You
guessed right! The Hero who came to save the moment was none other than the
"Vegetable Sooji toast"
Easy and quick to make, it's an absolutely no fuss snack which packs in enough
veggies for the picky ones… A super breakfast item which also doubles up as a great
accompaniment to our favourite evening Chai !! 
So, here's the recipe of this extremely healthy and filling snack.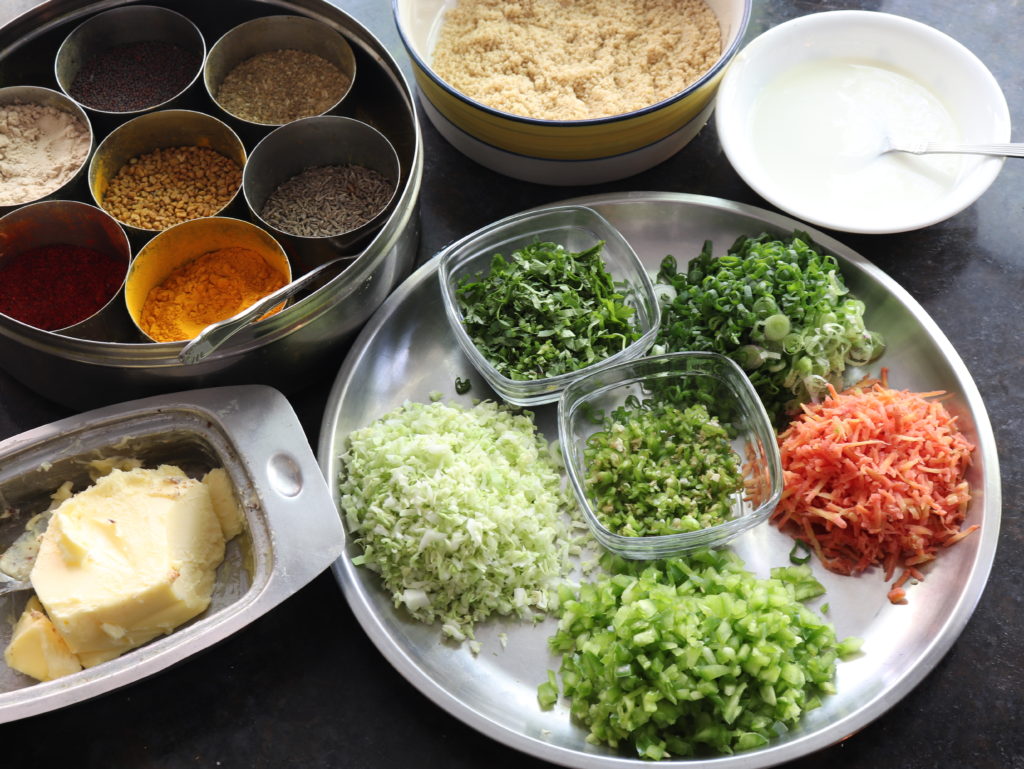 Vegetable Sooji Toast

Course
Breakfast / Teatime snack
Servings
2 persons (makes four toasts)
Preparation Time
10 minutes
Cook time
10 minutes

Ingredients for Vegetable Sooji Toast

(1 cup = 250 ml), (1 tbsp = 15 ml)

½ cup
Sooji (Semolina) / Rawa
½ cup
Dahi (Yogurt)
2 tbsp
Onions finely chopped
2 tbsp
Carrots grated
2 tbsp
Cabbage finely chopped
1 tbsp
Capsicum finely chopped
1 tbsp
Coriander finely chopped
½ tsp
Green chillies finely chopped
½ tsp
Turmeric powder
½ tsp
Red chilli powder
4 Nos.
Bread slices
½ tsp
Amchur powder or chaat masala (optional)
2 tbsp
Fresh malai
Salt to taste
Butter for greasing

Instructions for Vegetable Sooji Toast

1.
Lightly roast the sooji on a non-stick pan without oil. Do not let it brown.
2.
Mix the yoghurt along with all the chopped vegetables, red chilli powder, amchur powder, salt,
turmeric powder and fresh malai. Mix in the roasted sooji.
3.
The sooji – vegetable mixture should neither be too thin, nor too thick. It should be easily
spreadable. (The yoghurt is basically to bind the mixture).
4.
Apply butter on the bread slices on both sides. Spread the vegetable sooji mixture on it on one
the side of the bread only.

5.

Grill the toasts under a hot oven until crisp. You could cook this on a hot non-stick pan too on
both sides.

6.
Serve hot with green chutney and tomato ketchup.