Lip-smacking, uncomplicated &  quick to make, this snack unfailingly makes me delightfully nostalgic…so what better than "Mother's Day" to share this wonderful recipe with you all…
"Mushrooms" for today's gourmands and foodies is a whole new world compared to what resonates with me. I was introduced to this gorgeous fungi via the most common kitchen staple i.e "Button Mushrooms" or "Agaricus bisporus" to the more proficient. My mother had adapted an age-old recipe of Stuffed Mushrooms of Tarla Dalal to suit our palates…. needless to say, it was an instant hit back then and ironically remains one even in today's complex world of mushrooms. While we compliment the "Porcini" mushrooms from the West stretching to the "Shiitake" in the East, these stuffed Button Mushrooms, truly bestowed with beautiful flavours and texture always have and will continue to exude the fragrance of my mother's cooking and childhood memories.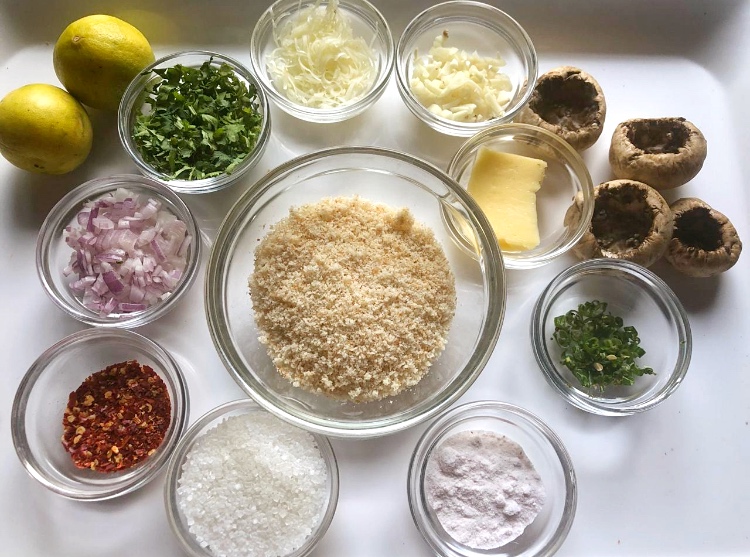 Course
Appetizer
Servings
Makes 12-14 pcs (4 – 5 persons)
Prep time
10 Min.
Cook time
10 Min.

Ingredients for Stuffed Mushrooms

1 packet
Fresh Mushrooms (12-14 pcs)
1 no.
Red onion finely chopped
2 nos.
Green chillies finely chopped
5-6 cloves
Garlic finely chopped
2 nos.
Fresh bread crumbled
2 tbsp
Finely chopped coriander
4 tbsp
Cheese grated
2 tbsp
Butter (Amul)
1½ – 2 nos.
Lemon juice (Indian size lemon)
1 tbsp
Sugar
Chilli flakes to taste
Salt to taste
Olive oil for sautéing

Instructions for Stuffed Mushrooms

1.
Wash the mushrooms well and wipe them clean. Remove the stems and discard them. Season them with salt and olive oil.
2.
In a pan, heat the butter. Sauté the onions for 2 -3 minutes. Sauté the garlic for 1 minute and
the green chillies.
3.
The bread slices can be crumbled by hand or done in a food processor. Ensure the bread is
fresh and soft.
4.
Sauté the bread for 1 minute with the onion mix. Add in the lemon juice, sugar, salt, chilli
flakes and coriander. Mix well. Ensure the bread doesn't become crisp. Keep the flame on
medium heat.
5.
Switch off the flame. Mix in the grated cheese with the bread mixture. Keep aside to cool.

6.
Fill the mix into the mushroom caps until the top.

7.
Heat olive oil in a pan. Sauté the stuffed mushrooms for 5 – 10 minutes until cooked.
Alternatively, this can be baked in a hot oven @ 180º C until mushrooms are cooked..
Serve warm