I know I'm a little late in posting this recipe due to my hectic summer travels, but I promise you this recipe is worth the wait! My raw mango salad- a light, tangy and fresh summer salad which perfectly highlights the flavor of 'kaccha Keri'. This flavor takes me straight back to the first days of summers when schools would get over and we, as kids, would sit and enjoy kaccha keri with salt and chilli powder. With that memory in my mind, I worked on this summer salad which is now a staple in my house.
To pair with the beautiful kaccha keri (the unripe green mango) I pair perfectly julienned carrots and the Asian green cucumber to add the crunch. Then I dress it with the light soya sauce, not the dark one as it tends to be extremely salty and heavy for Asian cooking. And for all those following the gluten-free diet, you can skip the soya all together. I promise it tastes just as good without.
As for the noodles, I've mentioned my go-to brand which is easily available in my city Indore. Feel free to use any noodle brand which you like and is easily available to you. Go give this recipe a try before the mango season ends. And as always I am happy to receive any feedback or queries, which I will try to solve as best as I can.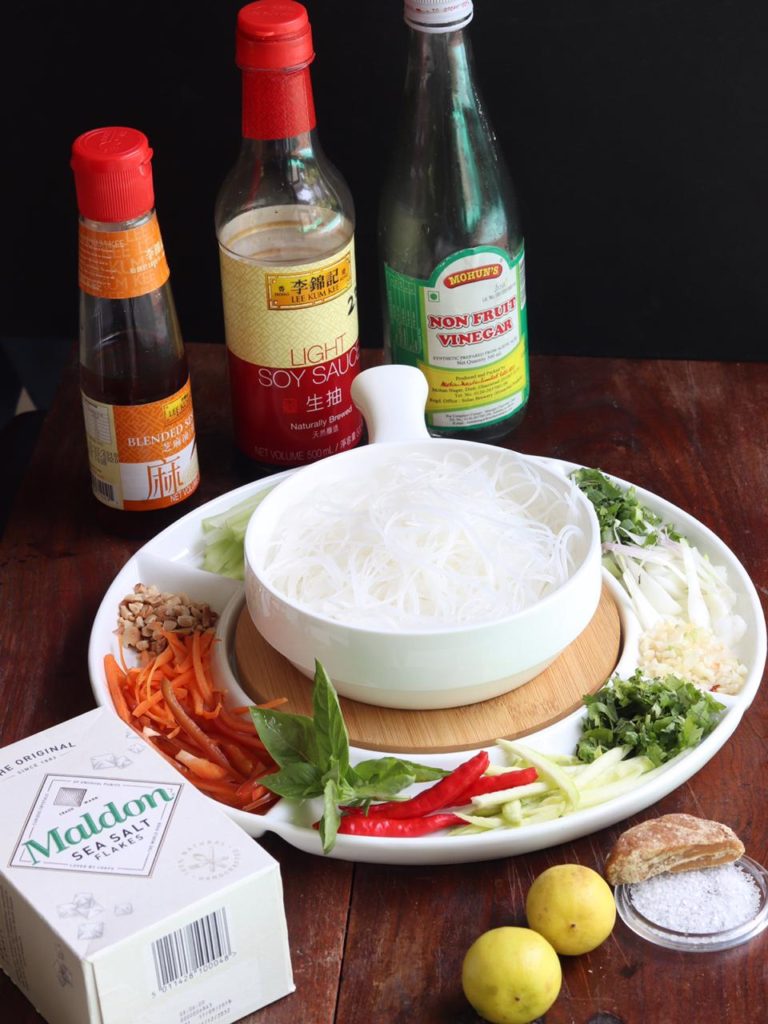 Course
Salads
Servings
6 persons
Prep time
10 Mins
Cook time
10 Min + 1 hour to chill in the refrigerator

Ingredients for the Salad

(1 cup = 200 ml, 1 tbsp = 15 ml)

100 gms
Glass noodle (Tiger brand Tanhun bean threads)
1 no.
Medium size raw mango, julienned
½
Red capsicum, julienned
1 no.
Cucumber, seeds removed, julienned
1 no.
Carrot, julienned
100 gms
Spring onions finely chopped (green &  white parts both)
1 tbsp
Salt
1 tbsp
Oil
3-4 tbsp
Green coriander finely chopped
6-8
Basil leaves (Preferably Thai ones if you get)
4-5 tbsp
Crushed roasted peanuts (without the skin)
700 gm
Water for boiling noodles

Ingredients for the Dressing

(1 cup = 200 ml, 1 tbsp = 15 ml)

¼ th cup
Blended sesame oil (Lee Kum Kee brand)
3-4 tbsp
Vinegar
1-2 nos.
Lemon juice (Indian size)
4-5 tbsp
Jaggery powdered (or palm jaggery preferred)
2 tbsp
Light soya sauce ( Lee Kum Kee)
1 tbsp
Sugar
1 tbsp
Finely chopped garlic
4-5 nos.
Thai red chillies
Sea salt to taste

Instructions for Salad

1.
Put the water to boil along with 1 tbsp salt and 1 tbsp oil. Switch off flame when it boils. Add the noodles. Leave for 5 minutes and drain under cool water. The strands should be separated.
2.
Add all the julienned vegetables, peanuts and other ingredients to the cold noodles and refrigerate for at least an hour.

Instructions for the Dressing

1.
In a mortar & pestle crush the red chilli, garlic and jaggery.
2.
Add the sugar, sesame oil, vinegar, lime juice to the mortar &  pestle and slowly blend all
ingredients together.
3.
Check the taste and add a little sea salt. (The soya sauce contains salt so please check and add
salt)
4.
Mix the dressing with the cold salad 10 minutes before serving. Ensure the salad is tossed well
and the noodles soak in the dressing. Refrigerate once again for about 10-15 minutes.
5.
Serve the salad chilled. Garnish with coriander, spring onion greens and a little crushed peanuts on top.

Tips

1.
The quantity of dressing can be adjusted according to your taste. However, this should be tangy and a little spicy.
1.
I usually mix half of the dressing and refrigerate without adding salt. Just 10 minutes before serving I add in the balance along with a little sea salt and serve.
1.
In place of the red chilli &  garlic I put in 1 tsp of my homemade chilli garlic paste. (Recipe of the paste is on the blog)