My One-Pot Pasta… A sure healthy solution to the ubiquitous 2-Minute Maggie Noodles! My children can scare the living daylights out of me when they are hungry and their meal is either gonna take longer or isn't entirely to their liking…This is when they start negotiating for some form of junk food in the garb of a quick fix.(I am sure Moms with young children are likely to relate to this phenomenon!)… In the past, I would succumb to their innocence with a sense of guilt which of course didn't last for too long…At such times this one-pot pasta is truly a huge saviour… appealing to both Moms and children alike!
It's really super easy and more importantly really quick to make… bcoz unlike other methods of cooking this one doesn't require pre-boiling the pasta. All the yummy and healthy ingredients are simply thrown into a single pot along with the pasta and cooked together.
Idea and recipe credits…. my cousin Vrinda, who taught me this on her annual trip to Indore. She is a complete foodie and we can endlessly discuss our culinary passions, explore and relish new recipes during our stays with each other… This dish is easy to tweak depending on your tastes and available ingredients for e.g., you can substitute the cherry tomatoes with fresh ones…Also feel free to alter the spice level, garlic etc.
An absolute no fuss recipe any novice can also stir up effortlessly.  It turns out to be a great option for kids studying away from home, bachelors tired of the usual routine or anyone who doesn't have the luxury of time and yet wants to eat something tasty and healthy but away from the regular…
You can also serve this with garlic toast and a glass of wine and yet enjoy your meal guilt free!!
Please do share your feedback including your variations!
Getting ready to order out your pasta on Swiggy, Uber Eats, Meals on Wheels etc., do try this recipe before you do so…Next time onwards I am sure you will know which is faster to turn around apart from being tastier and fresher!
Bon Appétit!!!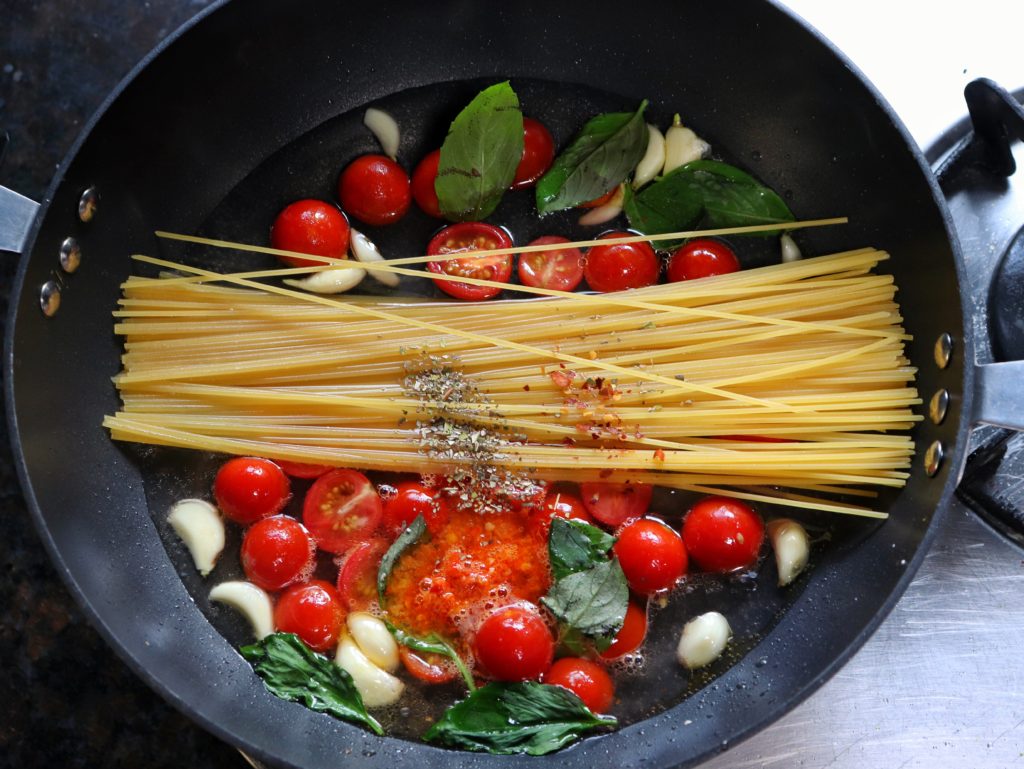 One Pot Pasta

Course
Main Course
Servings
2 persons
Preparation Time
5 minutes
Cook time
10 minutes

Ingredients for One Pot Pasta

(1 cup = 250 ml)

90 – 100 gms
spaghetti (I prefer Barilla)
12 – 14 Nos
Cherry tomatoes
8 – 10 Nos
Whole garlic cloves, mashed gently
1 – 2 tbsp
My homemade chilli paste  ( Click here for the recipe )
8 – 10 Nos
Basil leaves
A few drops
Tabasco to taste
4 – 5 tbsp
Olive oil
2 – 3 cups
Water
2 tbsp
Parmesan cheese freshly grated
1 – 2 tbsp
Tomato ketchup (optional)
Chilli flakes to taste
Oregano to taste
Salt to taste
Freshly ground pepper to taste

Instructions for One Pot Pasta

1.
In a large saucepan or a non-stick pot, add the oil. Throw in the garlic cloves and chilli paste. Sauté for a minute until the raw smell disappears.
2.
Add in the spaghetti (do not break the spaghetti. Take a large pan) Add basil leaves, water, cherry tomatoes. (chop half of the cherry tomatoes into two and use the remaining half as a whole). Add salt.
3.
Let it simmer on a medium flame. The tomatoes get mushy and release its juices. Let the spaghetti be cooked. Check if more water is required and add a little at a time.
4.
The spaghetti cooks in about 8 – 10 minutes. It should be al-dente. The water should be dried out and the tomatoes should be cooked.
5.
Now, add in the chilli flake, oregano, pepper, and Tabasco. If using tomato ketchup, add it now. Mix well. Check the seasoning and adjust as per your taste.
6.
Serve immediately. Drizzle with olive oil. Garnish with fresh basil and grated parmesan.

Notes

1.
This pasta is my take on a traditional authentic Italian pasta..so naturally, it boasts milder flavours…So one can adjust the spices to taste.
2.
The water should be added in gradually. Keep checking when spaghetti is done. Don't add in all the liquid at once because if spaghetti cooks and the liquid remains the spaghetti will get mushy. We want it al-dente.
3.
The recipe of my homemade chilli paste is on the blog. In case you prefer to use a store bought a ready-made one, please feel free to do so. Substitute the quantity as per taste.