The term pâté generally refers to a soft mixture of meat, fish or vegetables infused with various flavorings that are eaten cold. It's usually served as an appetizer or listed as a "first course" in the French & Belgian cuisine.
This mushroom pate presented to you is a beautiful mince of mushrooms, shallots and cream cheese with a whisper of fragrant truffle oil.
It's indeed awesome, easy to prepare n elegant looking with gorgeous flavors!
I learnt this recipe at a cookery school in the U.K. and each time I make it, rave reviews have been abundant and generous.
This can easily be made a day or two in advance to save time on that party day.
Serve it with crusty baguette slices and assorted crackers on a cheeseboard or set in individual small ramekins.
Do give this simple recipe a try! For all the mushroom lovers this is your next show stopper appetizer.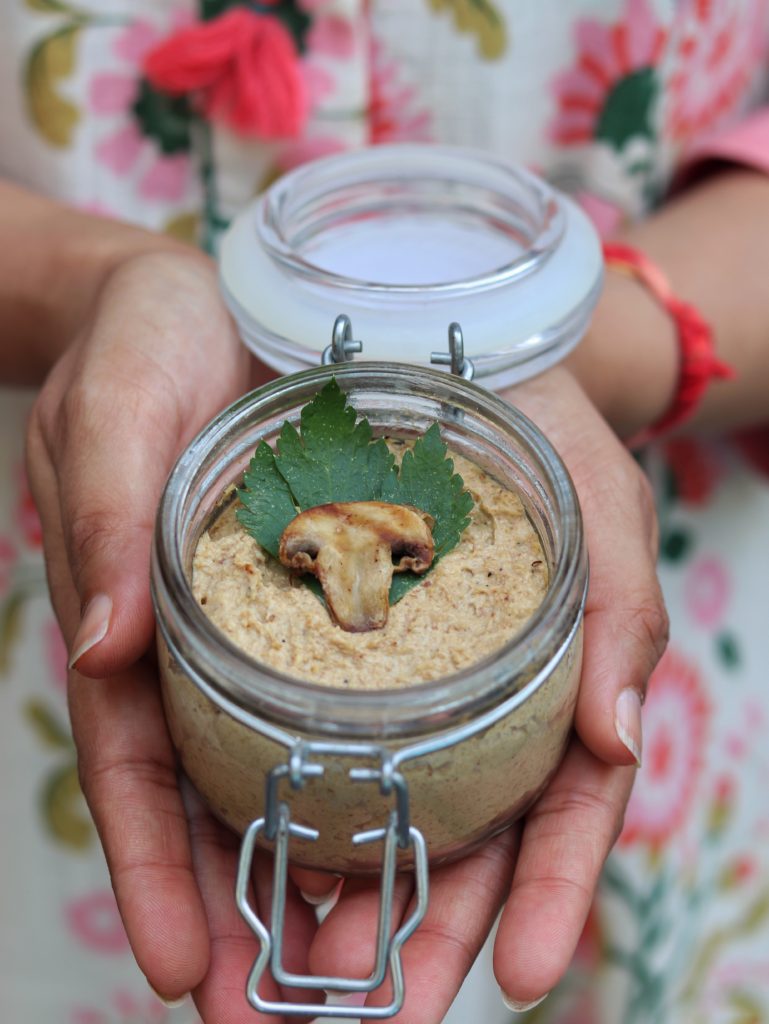 Mushroom Pâté

(A perfect choice for a cocktail party or can be used as a sandwich spread too!)

Course
Appetizer
Servings
Makes about 1 cup
Preparation Time
10 minutes
Cook time
10 minutes

Ingredients for Mushroom Pâté

(1 cup = 250 ml), (1 tbsp = 15 ml)

225 gms
Fresh Button Mushrooms
30 gms
Salted butter
2-3 cloves
Garlic
6 Nos.
Spring Onions (white part only) or shallots, finely chopped
170 gms
Cream Cheese (preferably Philadelphia or Dlecta cream cheese)
A few drops
Lemon Juice
½ tsp
Worcestershire Sauce
½ tsp
Tabasco Sauce
Salt to taste
Freshly ground black pepper to taste

Ingredients to Serve

(1 cup = 250 ml), (1 tbsp = 15 ml)

1 tbsp
Truffle oil to drizzle – (optional)
A few
Assorted Savory crackers
A few
Toasted baguette slices
A few
Melba toast slices

Instructions for Mushroom Pâté

1.
Wash and clean the mushroom properly. Dry out the moisture by wiping it with a kitchen towel. Slice them.
2.
Heat the butter in a pan and add shallots. Saute the shallots for a minute or two. Add the sliced mushrooms and cook on high flame until moisture evaporates.
3.
Cook until the shallots and mushrooms are well browned.
4.
Add the chopped garlic and saute until just translucent.
5.
Allow the mixture to cool for a few minutes.
6.
Blitz the mushroom mixture in a food processor until smooth and then add cream cheese and lemon juice.
7.
Blitz until well blended for a minute. Add Worcestershire sauce; Tabasco sauce; salt and pepper and mix well.
8.
Chill in the fridge for a few hours or overnight.

To Assemble and Serve

1.

Drizzle the Pâté with truffle oil – (optional)

2.

Serve the Pâté with melba toast, baguette slices, and crackers.

Tips:

1.
You could either serve the Pâté in small individual ramekins with the baguette slice (as shown in the picture) or set it in a small jar. This Pâté keeps very well in the fridge for up to a week.
2.
You could use a mix of assorted mushrooms like shitake, oysters, porcini.
3.

Drizzle truffle oil on top before serving if you are a truffle lover.

4,
I like to leave my pâté a little coarse with a little texture in the mixture.