My biscotti obsession started several years ago whilst I was on a family holiday visiting the breath-taking Tuscany in Italy.
Also known as "Cantucci di Prato" the biscotti is a crunchy almond cookie, a household favourite in Italy which has rapidly taken the world in its delicious stride.
Perfected over time, it's relatively simple to create… typically the dough is first formed into logs, baked, cooled slightly, cut into slices and then baked again. Don't let the sound of it deter you coz it's literally that easy to make. Besides, once you get the hang of crafting these awesome goodies you are sure to enjoy experimenting with different flavours as well.
Biscottis are truly a provocative mix of textures, flavours and visuals, traditionally enjoyed by dipping in vin santo (sweet dessert wine). It's also great dunked in coffee or tea. Even though originally made with almonds, I love mine with Pistachio and Figs!
Honestly speaking, for all those who get intimidated by baking or find it tedious, do try this recipe out once. It's said that cooking is an art, and baking a science. Accurate measurements are just as important when baking, as they were back in our science labs. My advice …. Please try and stick to the measurements given in my recipe, one perfected after several disappointments. I'm sure that your journey won't be as arduous given the step-by-step photos. Hope this one turns your passion into a baking obsession just as it did for me.
So I'm gonna get going whilst you try this out, grab my caramel Nespresso latte and dunk in these absolute favourite cookies.
Ciao.
Fig and Pistachio Biscotti

Course
Ideally served with coffee or tea
Servings
About 36 pieces
Preparation Time
15 minutes
Cook time
60 – 70 minutes

Ingredients for Fig and Pistachio Biscottis

(1 cup = 250 ml), (1 tbsp = 15 ml)

300 gms
Plain Flour (plus a little extra for dusting)
3 Nos.
Eggs, at room temperature
200 gms
Caster sugar
2 Tbsp
Olive Oil (plus a little extra for greasing)
80 gms
Dried figs (Anjeer)
80 gms
Shelled pistachios
1 tsp
Baking powder
½ tsp
Salt
Zest of one orange

Instructions for Fig and Pistachio Biscottis

1.
Grease and line a large baking tray with baking parchment. Preheat the oven to 180 Deg. C. (160 Deg. C in a fan oven)
2.
Cut the dried figs into small pieces
3.
Put the caster sugar and eggs in a large bowl; then whisk for a minute with a large balloon whisk just until the mixture feels frothy and a little more resistant as you beat whisk in the oil.
4.
Mix the flour, baking powder and salt, then sift them over the egg mixture. Finely grate the zest from an orange using a zester, and mix it with the egg and flour mixture. Add the chopped figs and pistachios to it. Fold the mixture gently into a dough, using a spatula.

5.
Scatter some flour over a work surface and turn the dough out onto it. Divide the dough into 2 balls equally. Dust your hands with flour and shape into 20 – 25 cm length sausages. The dough is quite soft, so be gentle and pat it into the required shape without squeezing it too much. Lift it onto the baking tray.

6.
Bake for 30 minutes or until they have risen and turned pale golden. Leave to cool outside once done, and in the meantime, turn the oven down to 160 Deg. C (140 Deg. C Fan).

7.
When the dough is firm and cool enough to handle, transfer the biscotti logs onto a board.
8.
Slice them crosswise into ½ inch thick slices.
9.
Spread the sliced cookies over a greased baking tray in a single layer.
10.
Return the biscotti to the oven and bake for 25-30 minutes turning them over when halfway through (after 15 minutes), until crisp dry and just golden.

11.
If you are baking 2 trays at a time, swap their shelf positions halfway through cooking too.
12.
Once done, cool the biscotti on a wire rack and then pack them into an airtight container. They last fresh, up to 2 weeks.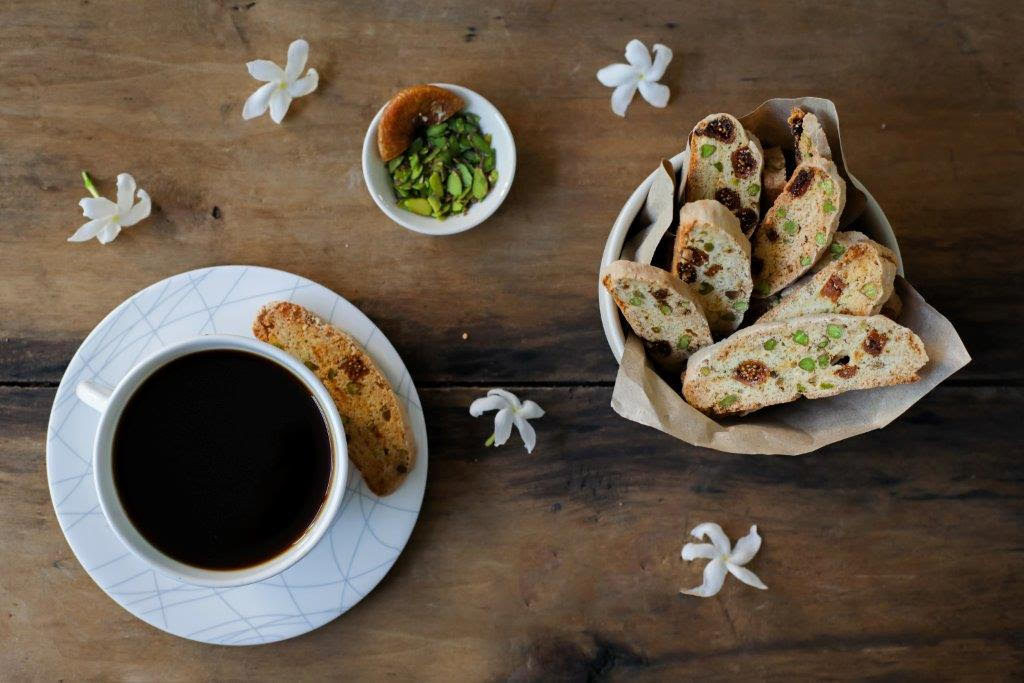 Dunk them into tea or coffee and enjoy!