Children's day … cherished by kids, parents and grandparents alike! So let's celebrate the innocence of our lil munchkins and create something special for them!
Macaroni and cheese or as popularly known "Mac & cheese" is a sure shot success with kids! In fact so yummy that you can't stop until your stomach literally cries out No More! A favourite of both my kids, Anisha and Ayan, makes it truly more special for me! It's even a great way to feed a few veggies to my son, which is otherwise a daunting task! These muffins are a great accompaniment in the lunch box or an after school snack.
I make a few variants of these muffins with truffle being my personal favourite. The bite size ones are a super party finger food and gets lapped up in a jiffy! Hope all your precious lil ones enjoy them as much as mine do!
Wishing them a very Happy Children's day!!!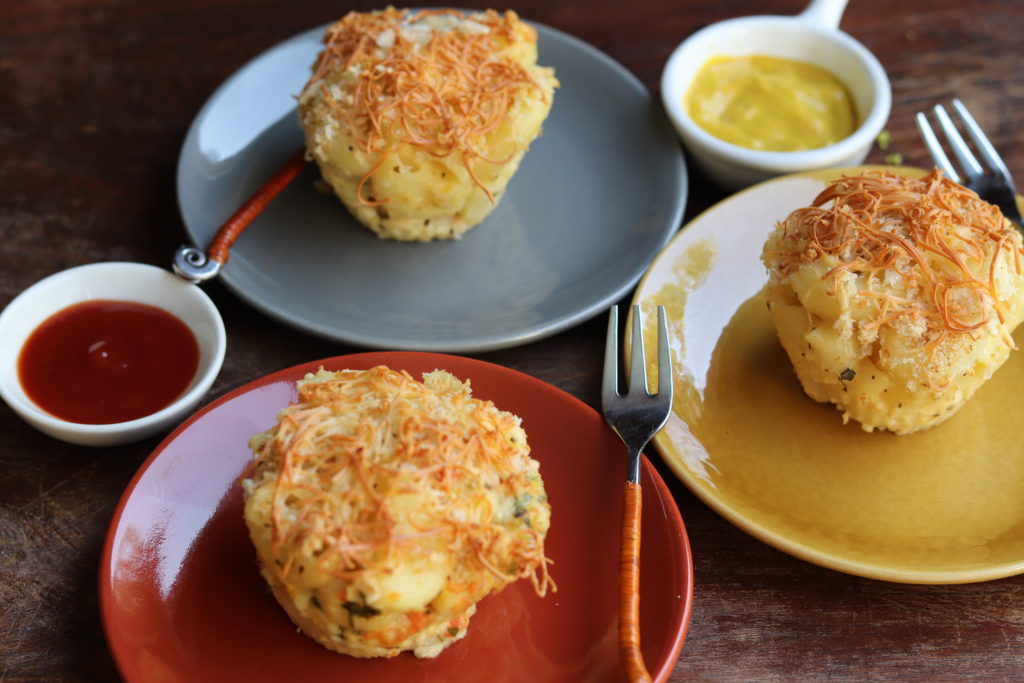 Mac & Cheese Muffins

Course
Appetizers / Snack – After School / Tiffin
Servings
8 persons (makes 16 big muffins)
Preparation Time
10 minutes
Cook time
20 minutes

Ingredients for the Mac & Cheese Muffins

(1 cup = 250 ml), (1 tbsp = 15 ml)

2 cups
Uncooked macaroni
2 tbsp
Butter
1½ tbsp.
Plain flour (maida)
1 tbsp
Finely chopped garlic
2 cups
Milk
1 cup
Grated cheddar cheese (I used Kraft), plus a little extra cheese to grate on top.
¼ cup
Fresh cream (I used Amul)
2 Nos
Lightly toasted white bread
 ½ tsp
Dijon mustard
Salt to taste
Dried herbs as per taste
Pepper to taste

Instructions for the Mac & Cheese Muffins

1.
Preheat your oven to 190 Deg. C. or 170 Deg. C. (fan assisted oven).
2.
Cook the macaroni in salted boiling water until al dente. Drain and keep aside.
3.
Heat butter in a pan. Sauté the garlic for a minute until the raw smell disappears. Don't let it brown.
4.
Add the flour and whisk well for 1 minute. Gradually whisk in the milk and stir continuously to avoid lump formation. Stir for 2 minutes until smooth and thickened.
5.
Add the cheese and mix well. Add the herbs, mustard, salt and pepper.
6.
Lower the flame and mix in the cream. Add the cooked macaroni and stir well. Check the consistency. The mixture should neither be too thin, nor thick. Add more milk to smoothen if required.

7.
Line your muffin tray (either big or small) with muffin liners. In case you don't have muffin liners grease the tray very well with butter.
8.
Coarsely grind the two slices of toasted bread in a food processor.
9.
Divide the muffin mixture into the muffin cups. Fill upto the top (unlike in the case of sweet muffins as these don't rise).
10.
Sprinkle bread crumbs (1 tbsp each) and top with grated cheese on top.

11.
Bake for 18 to 20 minutes in your preheated oven.
12.
Once baked, set aside to cool. After about 10 minutes or so, ease the muffins out of the cups.
13.
Serve warm with tomato ketchup and mustard sauce.

Tips & Variations:

This is the basic mac & cheese recipe. However, I like to flavour mine with different ingredients. Alternately you can also bake them in bite-size mini muffins trays and serve as an elegant appetizer.

1.

Spinach, Red and yellow capsicum, carrot, corn – Add finely chopped veggies in a pan and sauté. (About ½ cup). The veggies should retain their crunch. Add this to the basic mac & cheese mix before you fill the muffin cups.

2.

Mushroom and Gruyere – Add ½ cup chopped mushrooms (cut into 4). Sauté in olive oil on high heat. If you are doing this variation, please don't add herbs and mustard to the mix. Mix half cup gruyere cheese along with half cup cheddar in the above recipe. Add 1 – 2 tbsp of truffle oil.

3.

Spinach and Mushroom, (½ cup each) – sauté chopped spinach and mushroom and add to mixture. Remove the herbs and mustard. Add a few drops of Tabasco instead.

4.

Smoked cheese and bacon (for the non-veg lovers). Substitute half of the cheddar with smoked cheese. Further, you can also add bacon bits in the muffin.

5.

Sun-dried tomatoes, olives & sautés spinach, then stir in all the ingredients in the pasta mix and bake. Substitute Mustard with Tabasco sauce.
(In case short of time, you can bake the above mix in a baking dish as well, and serve.)