Rice and curd are almost synonymous with South India so is the traditional banana leaf!
Aromatic Curd Rice is my take on this gourmet heritage.A truly uncomplicated yet delicious and aromatic preparation that is likely to satisfy people with diverse palates across all ages…
This dish …the mere thought of which never fails to stir a deep-rooted nostalgia from my childhood, was originally prepared by layering all the ingredients in a casserole and then
baking it.
The quintessential Banana leaf which is large, flexible and waterproof is often used in select types of Indian cooking. With this little background, I thought of wrapping this awesome rice
the mixture in it and steaming it rather than subjecting to the heat from an oven.  To my amazement the outcome was this aesthetically appealing dish, infused with the subtle sweetness and aroma
released from the banana leaf, enhancing its already authentic gorgeous fragrance!
To be honest, the process may be a little time-consuming and delicate, but it's indeed a worthy variation to the southern rice dish…, strongly recommended for all rice lovers… simply a must-try.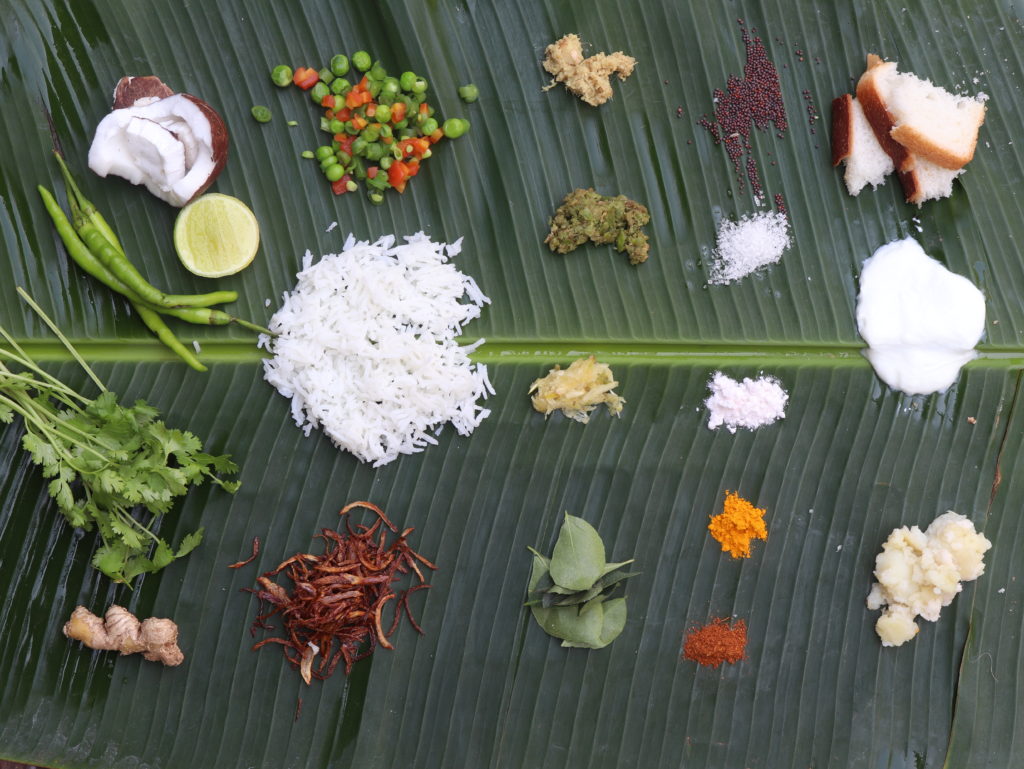 Aromatic Curd Rice Wrapped in Banana leaf

Course
Main Course
Servings
6 persons (make 11 – 12 packets)
Preparation Time
20 minutes
Cook time
25-30 minutes

Ingredients for Rice

(1 cup = 250 ml)

125 gms
Basmati rice
1½ cups
Thick curd (beaten and stirred)
100 gms
Carrots
100 gms
Beans
100 gms
Shelled peas
3 Nos.
Onions
3 tbsp
Ginger paste
3 tbsp
Green chilli paste
2 tbsp
Fresh coriander chopped
2 tbsp
Lemon juice
10-12 Nos.
Curry leaves
½ tsp
Black salt
2tsp
Mustard seeds
1 tsp
Asafoetida (hing)
Salt to taste
½ tsp
Garam masala powder
1 tsp
Sugar
7 Nos.
Medium sized potatoes (boiled)
2 slices
White bread
6 tbsp
Veg. oil for cooking
Oil for frying

Ingredients for the Green Chutney

½
Coconut grated
3 – 4 tbsp
Fresh coriander leaves
1 No.
Lemon
4 – 5 Nos.
Green chillies
½ inch
Piece of ginger
A pinch
Sugar

Instructions for the rice:

 1.
Peel two medium sized potatoes and mash them.
 2.
Soak the bread slices in water and squeeze out the water.
 3.
Mix the bread and mashed potatoes. Add the finely chopped coriander, salt, 1 tbsp ginger paste and 1 tbsp green chilli paste. Mix well.

 4.
Make small balls of the above mixture. (It makes around 35 – 36 small balls). Deep fry them in hot oil until golden brown and keep aside.

 5.
Slice the onions into thin fine slices (like you do for biryani). Fry them in hot oil and keep aside.
 6.
Mash the remaining potatoes (5 Nos). Add in the salt, 1 tbsp ginger and 1 tbsp green chilli paste. Add 1 tbsp of lemon juice. Mix well and keep aside. (you can adjust the spice level and the sourness as per your taste).
 7.
Cut the carrots and beans finely. Boil them along with peas and keep aside.
 8.
Boil the rice as you would for biryani and keep aside. Drain the water you use for boiling the rice.
 9.
Heat oil in a kadhai (vessel). Sauté 1 tsp mustard seeds, ½ tsp of asafoetida, 6-7 curry leaves for 1 minute. Add the remaining ginger and green chilli paste and sauté. Add the boiled vegetables. Mix in black salt, salt to taste, sugar, lemon juice and garam masala powder. Mix well and keep aside.
 10.
In another vessel heat a little oil, sputter the remaining mustard seeds, asafoetida and curry leaves. Add the rice and mix. Switch off the flame. Add in salt, beaten thick curd and mix well. Keep it aside for further use.
 11.
Grind all the ingredients for the green chutney and keep aside. Add very little water to grind as we don't want the chutney to be runny.

Assembling the rice:

 1.
Cut the banana leaves into squares (size approx. 11" by 11").
 2.
Apply oil on the inner sides.
 3.
Put 1 tbsp of rice on it. Layer the rice with the 1 tbsp mashed potato layer. On top of this, put 1 tbsp of green chutney.
 4.
Then, add 1 tbsp of mixed veg on the chutney layer. Top the veg layer with 1 tbsp of rice. On top of the rice put 2 – 3 potato balls. Cover the rice with 1 tbsp of fried onions.
 5.
Wrap the leaf over the rice and close the parcel with the help of toothpicks/Skewer as shown in the picture.

 6.
Make the remaining packets in a similar manner. Do not overfill as they may break and fall apart.
 7.
Steam the pockets in a steamer for 10 – 12 minutes.
 8.
Serve warm.

Additional steps:

 1.
Spread the curd rice

 2.
Add the mashed potato layer.

 3.
Spread the chutney layer

 4.
Spread the veg layer along with half of the potato balls.

 5.
Cover with the balance curd rice.

 6.
Add the balance fried balls and fried onions on top.

 7.
Bake in a preheated oven until it's hot enough to serve.
Note:
i. This rice is best enjoyed with raita or plain curd.
ii. You could make a single huge parcel instead of individual ones.
iii. You could also layer this rice in a casserole and bake in a hot oven for 10 – 15 minutes.
iv. Always steam or bake the rice just before serving.